HRSG Components
---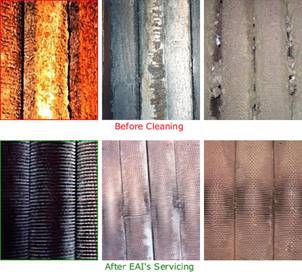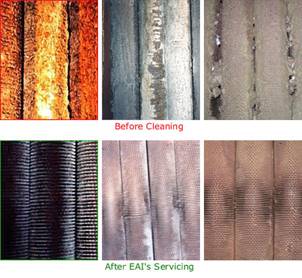 Fouling and plugging of your heat recovery steam generator (HRSG) affects back pressure, heat rate, steam production and many other factors resulting in decreased output that robs your bottom line.
In today's power market, with volatile fuel costs and uncertain demand, you need to make every megawatt count. EAI has the experience and effective surface cleaning technologies to recover lost capacity for you.
There are many reasons for cleaning an HRSG. In some cases it is a corrosion issue; in others the issue is performance. Fouling and bridging of the gas path can create many problems for the HRSG operator. Increased back pressure, heat-rate degradation, loss of steam production, decreased thermal heat transfer efficiency and corrosion can all have a detrimental effect on the plant assets.
Restore HRSG Performance & Increase Revenue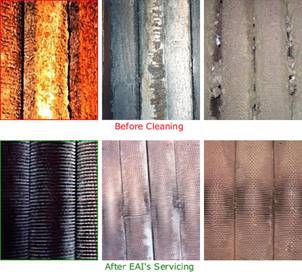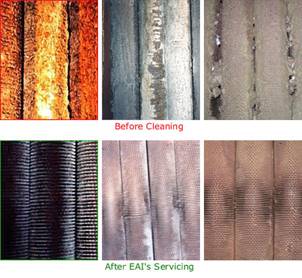 Reducing the backpressure through the HRSG by just 0.5"equates to a measurable increase in generating capacity. This is usually on the low end, as many plants will see a 1" or better improvement through our cleaning process. The cleaning service earns a good return on investment (ROI) – typically a 0.5" decrease in DP will result in a quick payback of $50,000 to $60,000 – that more than pays for the average cleaning. The cleaning is not just an issue of improving performance but also a preventative measure to remove the corrosive deposits and extend the life expectancy of their assets. Ongoing maintenance and cleaning by plant owners/operators can solve these issues thereby recovering lost MW capacity and improving power plant operations.
Turnkey Cleaning Solutions
Clients have called upon EAI to solve all of these issues with full turn-key cleaning systems and qualified personnel to clean fouling, sulfur deposits, ammonia salts, corrosion, rust, insulation and other contaminants from the gas side of the fin tube surfaces within the HRSG. Clients have retained EAI as a part of the annual maintenance program at many plant sites, where we perform annual cleanings to keep units operating at peak efficiency. As a member of HRSG users' groups, we stay current through attendance at annual meetings, where we listen and respond to problems that face owner/operators of the various plants around the globe. EAI works closely with all of the original equipment manufacturers (OEMs) to assist their clients in maintaining efficient performance of their HRSGs. All the major OEMs recommend EAI as the company of choice to clean their plant equipment. The CO2 process is recognized as a "best practice" for cleaning HRSGs.
To learn more about what we have to offer, reach out to us and fill out our online contact form today.