Dry Ice Cleaning Services – CO2 Surface Cleaning
Dry Ice Cleaning & Blasting Services
---
When you need cleaning processes that are safe and effective, consider dry ice blasting services. Powerful and efficient, dry ice cleaning can handle grime and stubborn residue without the need for harsh chemicals and without creating secondary waste.
At Environmental Alternatives, Inc. (EAI), we enhance the quality of our dry ice blasting services by making our own dry ice on demand at our work site. On-site dry ice production allows for greater efficiency, so you can get the comprehensive cleaning services you need for your industrial environment.
Jump To: Dry Ice Blasting Services | Benefits of Dry Ice Blasting & CO2 Cleaning | Make Dry Ice on Site | Contact Us
What Are Dry Ice Blasting and CO2 Dry Ice Cleaning Services?
Dry ice blasting and CO2 blasting are two terms that describe the same process. We use CO2 cleaning as our main service and cleaning method of industrial plants and HRSG's because of its high level of effectiveness.
In the dry ice blasting process, we bring pressured liquid CO2 to the work site and then pelletize it into compressed dry ice granules. We deliver the pellets through a blasting nozzle with compressed air, sending out a stream of dry ice for cleaning. The pellet blasts quickly and efficiently penetrate dirt and debris before sublimating into gas on the cleaning surface to lift away contaminants.
Benefits of CO2 Dry Ice Cleaning Services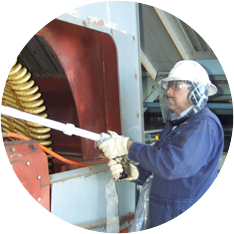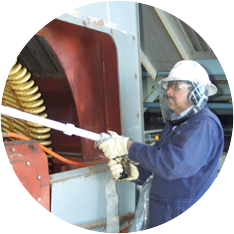 Environmentally Friendly
The CO2 pellets penetrate the contaminant layer and upon impact, sublimate to a gas and thereby generate no secondary waste. The CO2 liquid used to generate the pellets is originally captured as a waste product and recycled, allowing EAI to create dry ice pellets.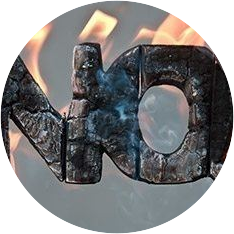 Non-Destructive
The CO2 pellets are abrasive but will not damage the surface being cleaned.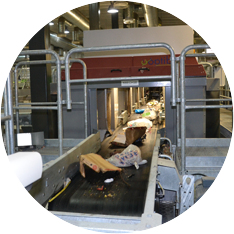 Highly Effective
Dry ice blasting's unique expansion effect and flushing action allows it to clean more thoroughly because the dry ice pellets expand 700 times their original size when applied through the cleaning nozzle.
Why Is Making Ice On-Site Better Than Having It Delivered?
When we produce dry ice on-site for each operation, we can ensure the quality and density of the pellets we use. Pre-made dry ice pellets are typically over 24 hours old and have lost density, which means they'll begin to sublimate before they leave the blasting nozzle. Our freshly manufactured pellets, in contrast, have greater density for better cleaning performance because we prepare them on-site.
With on-site dry ice manufacturing, we optimize our cleaning process with dry ice pellets that clean with maximum effectiveness while still protecting the surfaces we're cleaning. Our Mobile Support Trailers (MST) give us the innovative technology to make our own dry ice at the work site. We can travel anywhere in the U.S. or worldwide to provide scheduled, emergency or on-demand services for customers.
Trust EAI for CO2 Dry Ice Blasting Services
In 1993, EAI was the first company to introduce the dry ice blasting technology to the power industry, and we continue delivering trusted commercial cleaning solutions today. We're experts in this industry and use state-of-the-art technology to provide the best possible services to our customers.
When you work with us, you can depend on the innovative, high-quality services we've been providing our customers from the start. To learn more about what we have to offer, reach out to us and fill out our online contact form today.